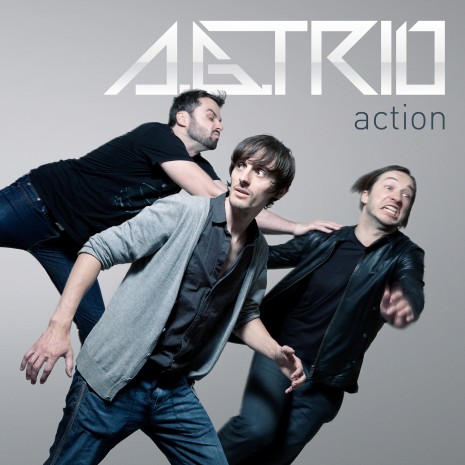 Artist: A.G.Trio
Title: Action
Label: Etage Noir Special
Cat#: enscd01
Release: 25.5.2012
Format: 2CD, Digital
Barcode: 9120047333334
Distribution: Daily Records, Ordis
"Action" is the A.G.Trio´s first album. The double CD is an album as well as a work exhibition. In 125 minutes the three Upper-Austrian producers present a selection of their successful dance music productions and remixes from the last two years as well as yet unreleased music. The 26 track collection shows the musical development of the trio for the first time on one single release – quite in opposition to their usual single and EP releases. The new tracks on "Action" not only consequently follow the path of the A.G.Trio´s latest releases but also bring out new aspects of their work and point direction for upcoming releases.
CD1 contains original music by the A.G.Trio. Older tracks, reworked or newly recorded, can be found there as well as the latest singles and of course new material. Especially their latest single, "Countably Infinite", which was recorded together with Markus Zahradnicek, the singer of die indie band Francis International Airport, is outstanding. It combines two musical worlds and brings the A.G.Trio back to it´s roots in electropop. But also other non-dancefloor tracks found their way onto "Action".
The second part of "Action" is dedicated to the numerous remixes the A.G.Trio did in the last years for various international artists. A selection of 14 remixes for acts like Parov Stelar, Egotronic, Ira Atari or The Sexinvaders shows the variety and large amount of the trio's work. The sound of their remixes not only goes carefully into the original tracks but also always leaves its own, very special character. The combination of original tracks and remixes is the actual strength of "Action". This way it reveales the whole bandwidth of the work of a contemporary dance act like the A.G.Trio
www.theagtrio.com
Tracklist
CD1 – Action
1. Everyone With Us 5:40
2. Countably Infinite feat. M. Zahradnicek 4:35
3. Cruasade 4:19
4. Bass Effect 5:57
5. Morning Glory 2:52
6. Replay (Album Version) 4:32
7. Moldance 4:17
8. Another Heart 3:05
9. Dancen 5:18
10. Planet Disco (Unz Unz Version) 5:26
11. Jungle 5:24
12. Things You Wanna Play (Unz Unz Version) 4:23
CD2 – Remix Action
1. Parov Stelar – Nobody´s Fool feat. Cleo Panther (A.G.Trio Remix) 5:28
2. Ira Atari – Don´t Wanna Miss You (A.G.Trio Remix) 5:15
3. Tits & Clits – Daedalus (A.G.Trio Remix) 6:09
4. Eriq Johnson – Guy Who Is A Girl (A.G.Trio Remix) 5:31
5. ULTRNX – Rockstr (A.G.Trio Remix) 5:11
6. Orchestra Psychodelia – Cybatown (A.G.Trio Remix) 5:25
7. Näd Mika – UFO (A.G.Trio Remix) 6:13
8. Dead C.A.T. Bounce & You Killing Me – Justice! (A.G.Trio Remix) 5:44
9. Just Banks – Blockparty feat. Coppa (A.G.Trio Remix) 5:51
10. The Sexinvaders – LA LOVE (A.G.Trio Remix) 5:06