Event
The Future Sound presents POMRAD (BE)
Lineup:
POMRAD (Earnest Endeavours / Be)
Swede:art (Error Broadcast / De)
Abby Lee Tee / Andaka / F!NO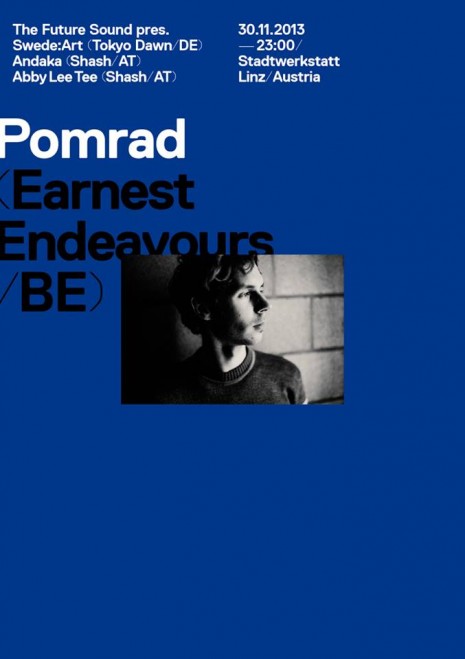 POMRAD
One year after the release of his first EP, Vlotjes, Pomrad (alias of Antwerp based jazz keyboard player, rising producer and solo performer Adriaan Van De Velde) released his This Day EP in April on London art label Earnest Endeavours (links with Brownswood, Sonar,….). This Day puts Pomrad firmly forward as the one to watch, with big support from Belgian press & radio, but also Gilles Peterson, XLR8R, Inspector Dubplate, … and an impressive series of live performances.
Having built a small local following around his electric stageshows and virtuoso keyboard playing, the funky, soulful and international sounds off the Vlotjes EP in 2012 were taken by many to be a revelation, and invited comparison to popular powerhouse producers such as Hudson Mohawke and Rustie. Approaching these recent influences with his own eclectic sensibility rooted in 80's funk, 90's hiphop and jazz fusion renders Pomrad with a unique and recognizable voice, through a focus on progression, structure, improvisation, and nostalgic productions that are allowed to breathe (think Patrice Rushen).
Tracks off the previous EP were featured in the late night selection on Studio Brussel, ao. Hot Rain which also appeared on the Brownswood Electric 3 compilation. From This Day the first single Pomslap was featured heavily on the StuBru daytime playlist for 12 weeks. A second single, Smooth & Silke, has been a regular fixture on StuBru late night programming for 11 weeks.
Pomrad's one man live set, where he truly distinguishes himself from dj producers, continued to draw accolades as well, with performances at Dour Festival, Pukkelpop , BBW Tokyo, Off Centre & at Village Underground in London. Trying to play live as much as possible, on stage he has been described as a "funked out octopus", making use of synthesizers, midi controllers & keyboards. Laying out the different samples over his keyboards gives him control over the groove of each set, only making use of backing tracks when stepping to the front of the stage for a searing keytar or talkbox solo.
Gilles Peterson about POMRAD: If you're a fan of the heavy West Coast Funk sound purveyed by the likes of Dam Funk and B. Bravo, then the chances are this EP by fast-rising Belgian producer Pomrad will tick a lot of boxes. The classically trained pianist certainly has some skills – handling his synths, talk box and keytar with aplomb. Pure sunshine vibes!